-
I'm posting both of the 12"s from Brothers Of The Mind that were released in '95 and '96. Brothers Of The Mind come out of New York and are signed under Max'n Records. Max'n released some good stuff from '94-'96, a lot of instrumental and jazzy stuff. Both of these 12"s were produced by Pal Joey, who is well known for his work with BDP.
Stop Schemin' / Kick Facts - 1995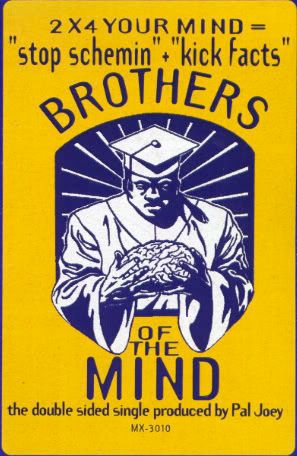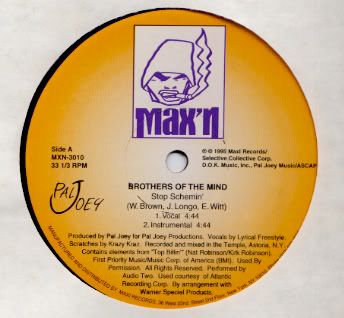 The first 12" they put out is my favorite of the two. It has the tracks Stop Schemin', on the A side, and Kick Facts on the B. I really like the beat for Stop Schemin', it has a crazy horn loop and lyrically it's a killer. Kick Facts has a bit of a faster beat and is a little more rugged.
Stop Schemin' / Kick Facts
-

Rough & Tough VLS - 1996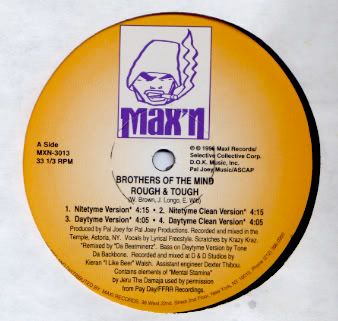 The second one has the track Rough & Tough and 2 different mixes, the Daytyme Mix and the Nitetyme Mix. The lyrics in this song are really well written. All 3 versions are sick and each have different styles. The Nitetyme Mix was remixed by Da Beatminerz and it's probably my favorite. This song has a sample from Mental Stamina by Jeru The Damaja. You all need to defiantly listen to these vinyls, and please leave me a comment telling me your stand on them. Enjoy!
Rough & Tough VLS