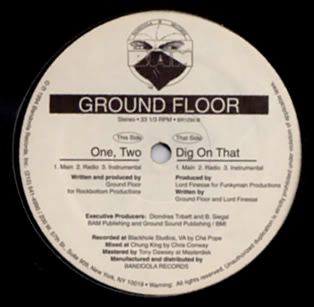 You all should know this 12". I'm posting this VLS full because it's not really up anywhere else. For those who don't know this 12" was dropped in '94 and the label is Bandoola. This 12 features Lord Finesse on the B side. Lord Finesse did the productions for that song also. Ground Floor never did anything after this 12" but they were planning on doing a full EP on Bandoola, so was Lord Finesse, but the label dropped off and that was the end of Ground Floor. So enjoy the dopeness.
One, Two b/w Dig on That (BYL)
One, Two's got a vid. If ya haven't seen it here it is.
Ahhh so fresh. Love this track